FAQ
Don't hesitate to ask me any questions you might have! Message me directly on @dragondenim on instagram if this page doesn't clear up any questions you have!
"CAN I GET A REFUND?"
We only offer cancellations within
24 hours of purchase
! If you need to cancel your order, shoot us an email at
help@dragondenim.com
"HOW DO I WASH MY ITEMS?"
We recommend HAND WASHING your items. All denim, no matter where you get it from, should not be washed after every use. Levi Strauss even recommends never washing your jeans! We don't know about all that but due to the fragile nature of our designs, you have to hand wash these items and hang them to dry.
"HOW DOES SIZING WORK?"

Here's a size chart for our denim jackets as well as a cut diagram. The black denim has a drop shoulder cut, making them fit a little oversized! If you want an oversized look, We recommend going up one size.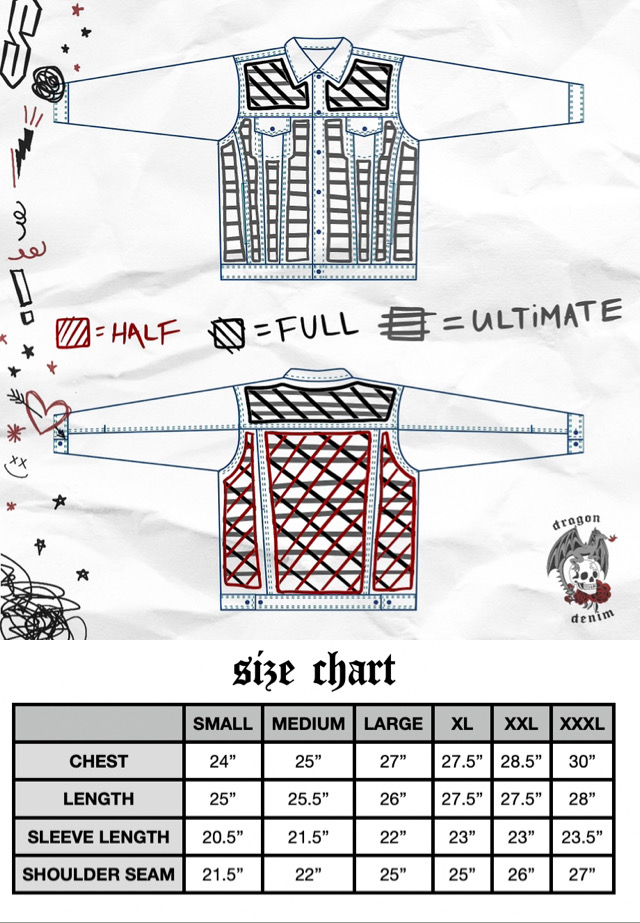 "CAN I SWITCH UP MY LACE AND DENIM OPTIONS?"
Absolutely! If you don't see a denim lace combo on here that you want (example: blue denim with snake lace) then just include that you want a blue jacket in the notes at checkout!

"CAN I GET IT CROPPED?"
For sure. Just include it in the notes at checkout! 
"DO YOU SHIP TO ___?"
Yes, I ship internationally! Just note that I do not control shipping costs, it is what it is my friends.
"HOW LONG WILL THIS TAKE?"
Each jacket is handmade by a very small team of sewists! Current turnaround is always updated on the first page of my website so you can't miss it. It may extend beyond that depending on supplies, order volume, personal events, etc.

"CAN YOU MAKE THE LACE ___?"
I can't change the laces themselves. I buy them as is so I cant change the color or remove a specific part or edit them in any way.
"WHY ARE THEY SO EXPENSIVE?"
Because :)